Posted by Rob Conrad
on
Thurs
October 2, 2008 @ 9:01AM
at 
www.Townhall.com
  [  *At the time of this post,  30 mins before the  Stock Market opened,  the  Dow Jones 
was set @ 10,830
. At the end of the day's closing bell @ 4PM ET,  the Dow had dropped 348 points,  and  closed at 10,482 points.  ]  [*This same letter below was also sent out to Global Partners of Heisnear.com on Oct 2nd.]
Coming Next:  Stocks will Crash, Banks Closing

As Americans await this morning for the House's final acceptance or rejection of the current Bail-Out Bill, the Stock Market and Banks across the country are NEXT IN LINE to crash and collapse.   This imminent scenario will occur regardless of the  Bail-Out Bill's acceptance or rejection.

After the history-breaking  777 point One-day drop in the Stock Market a few days ago,  the last few days show much talk about a 'rebound'  in the stocks and a  'good time to buy in'  to the stock market.   To the contrary,  the  STOCK MARKET WILL CONTINUE TO BE A DOWNWARD STAIRCASE GRAPH HEADED FOR THE CRASH.   This, AND the closing of many BANKS,  will occur  even though there might be numerous quick and short-lived  up-blips and false rallies for a moment.

The repeated and specific forewarnings I've made recorded at the site since October 4, 2005  and as recently as September 11th and Sept 22nd  in letters to our Global Partners that  America's Future is poised for the biggest collapse ECONOMICALLY in our nation's history  are already now manifesting in the last two weeks since Mid-September.

What we've seen so far is ONLY THE TIP OF THE ICE-BERG of the ECONOMIC COLLAPSE coming to America.

It will quickly get worse.

View:  

the REPEATED WARNINGS  recorded at the site.

ALSO VIEW   'Why?'  this is happening AND

THE SOLUTION.

@DirectLink:  www.Heisnear.com/AmericasFuture.html 

>>>>>>> end of recorded post/letter, Rob Conrad / 9:01Am / Thurs Oct 2, 2008



What  has  the  Stock  Market done  since the above post at 9:01AM  Thursday,  Oct 2nd  ?

Thur  10/2  >  Drop 348 pts

Fri  10/3  >   Drop 158 pts

[ $700 billion Bail-Out signed ]

Mon  10/6  >   Drop 369 pts

[  Dow below 10,000 today 1st time in over 4 yrs,  since '04  ]

Tue  10/7  >   Drop 508 pts

Wed  10/8  >  Drop 189 pts

Thur  10/9  >  Drop 678 pts

[  1st   time  in  5  years   ['03]  Stock Market  dropped  below 9000  points;  1 yr ago Stocks were  over  14,000  ]

Fri  10/10  >  Drop 128 pts

__________

Since  Thur  Oct  2nd :

= Dropped 2378 pts total

= Dow rests @  8451 pts

[  *as  of  closing  bell   Friday,

Oct   10,  2008  ]

....  

Tracking USA 2008

Stock Market Crash:

Oct 2nd, 2008  >  10,830 pts

Related  Info   /    Forewarnings

                from this site: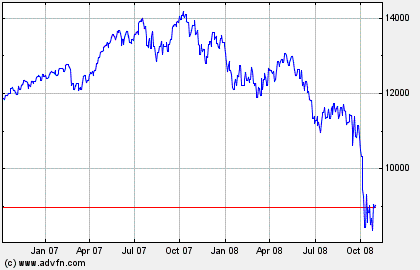 STOCK  MARKET:      Jan  2007    thru   Oct  2008

Original  Prophecy  pointing  to  2008  for severe Stock Woes  and USA's  potential Biggest  Economic  Collapse  in  history /  Rob Conrad

Today's Crashed Global Economy

"Current Imploding Global condition  will  continue  to  spiral downward  towards collapse..."  /  Rob Conrad